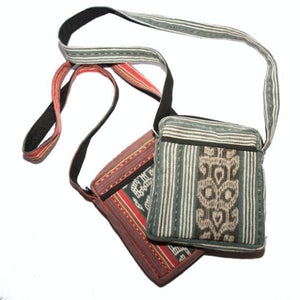 KOR TIMOR
Shoulder/iPad Bag
Regular price
$20.00 USD
$0.00 USD
Unit price
per
Tax included.
Timorese textiles hand-woven cotton shoulder bag, colour ways, with natural dyes.
Two Sizes- 24 x 25 cm and iPad
Weight- 200g
Handmade in East Timor. Proudly supporting diversity and sustainable economic development to help alleviate poverty.
All products are unique and hand made with traditional and individual colour schemes. They come in a range of colours blended into unique patterns from traditional colours, red, blue, brown and indigo. If you have a colour preference, please contact us or let us know during check out.
A quality local product, environmentally friendly, and with made-to-order packaging. 100% of the cost is returned to the makers of this product in Timor Leste.
Shoulder Bag S030
Kor Timor is a small local East Timorese not for profit business, established in Dili in December 2006 with private funding from Australia for supporting employment, and fair trade for East Timorese people. This project was made possible by the Rotary Club of Kew with support from the Rotary Foundation.

In addition, Kor Timor is sustainable, environmentally friendly and locally managed. All Kor Timor's staff are Timorese, and we currently employ 18 Timorese staff. We can design and supply custom-made boxes, made to order packaging, handmade books using recycled paper, tais handbags bags, tais focussed jewellery and other household and fashion items to order.

All income generated by the sale of our products supports the fair trade salaries, costs and rent, and the growth of the business. Any surplus is invested in local projects.

The aims of Kor Timor are:

Producing high quality local products for gifts using local textiles (called tais) for international as well as the local market. Items are sold from our shop in Taibesse and through our kiosk at Timor Plaza, and provide a sales outlet for local craft people.

Creating jobs for Timorese people and producing various quality of Timorese products.

Training and mentoring staff in small business management, so that they can run the business by their own and to reach sustainability in the future.
Tais is Timor Leste's heritage, therefore Kor Timor contributes to keeping the traditional weaving practice alive by purchasing and promoting their quality tais regularly as part of support for weavers around Timor-Leste and other products such as Atauro dolls, Atauro carving and Baucau local soaps.
Safeguarding Timor-Leste's original and traditional textile "tais" for Timorese future generations to learn their own beautiful cloths and avoid it disappearing from the future.
Promoting local products at a National and International level.
Promoting Timor-Leste's identity through tais.
There are three sections of work at Kor Timor, which are-
Creative area- Where the staff produces boxes and other beautiful gifts using tais as the prime material. We have our own designs, but we also design to the needs of our customers.

Sewing area- Our team designs and makes bags and purses, lanyard, USB strings, vests and so on using tais.

Recycle paper making area- We create A4 papers, A3 papers, envelopes with different patterns and various colours. These are used to make Journals, Handmade Flip-up Note Pads, Note Paper, Invitations, Christmas cards, Valentine cards, Birthday cards, Mother's Day cards, Boxes and so on.
A Bit About Tais and Our Journey
The main and most famous material that we use is Timor Leste textile is called "tais" for Timorese souvenirs, gifts and everyday useful products. Apart from using recycled paper, Kor Timor is also producing other eco-friendly products such as environmental bags which is very useful for shopping. This is an eco-friendly product alternative, with the main purpose of this product being to educate local people to start using reusable bags or environmentally-friendly bags, and to stop them from using plastic bags when they shop, which will damage the beauty of our country.

Kor Timor also has attended many local and International fairs overseas, such as in Philippines, Portugal, Melbourne (Australia), and the International Folk Art Festival in Santa Fe (USA) to promote and sell our original high quality products and souvenirs as well as promoting our country to the world. We do this as Timor-Leste is just a new small country that is still in developing process, and unknown by some people in those countries and many across the world.

OFFICE DETAILS
Our Office Location and Contact Number-
(Location 1) Kor Timor Lda is located at Rua Mercado Taibesi (Next to Sentru Juvinil), phone: +670 7733 4460.

For any email enquiries you can email us at kortimor.leste@gmail.com

We are open from-
Monday to Friday from 9AM - 5PM
Saturday and Sunday by an appointment only.
KOR TIMOR KIOSK DETAILS
(Location 2) Kor Timor Kiosk is located in Timor Plaza just located on the first floor just at the front of Food Court, phone: 77854485/ 77946608.
The Kiosk opening hours are Monday to Sunday from 9AM- 6PM.

ORDERING ONLINE
When ordering online, local customers should click and collect items at the shop or Kiosk once confirmation has been agreed.

Orders from overseas and embassies can be only made in bulk at the moment due to freight costs, and Covid 19 related restrictions to flights from Timor-Leste. We have a custom catalogue that includes special wholesale pricing for products featured on our website and exclusive products available for International and Embassy Orders only. To request this catalogue and find out more, please email us at kortimor.leste@gmail.com
SOCIAL MEDIA
Please also find us on Kor Timor Lda FB page.
Come and visit us...we have plenty to offer.
---